Our Mission For Sober Living In Asheville
Oak Tree Recovery Homes in Asheville North Carolina has a mission to help men of all ages, exiting in-patient treatment or struggling in early recovery, to achieve the skills required for long-term recovery. During an average stay of four to six months, men are provided recovery support on a daily basis, and a safe, loving environment. We guide all residents into a sober living lifestyle based on the 12-step approach as the solution for overcoming their challenges of entering into a life full of freedom and choice.
Attending 12-Step Meetings, obtaining gainful sponsorship, working the 12-steps, and daily house meetings.
Oak Tree has zero tolerance for the use of any mood-altering substances in our community.
Our comprehensive services are designed to help these men transition back into the community while equipping them with adequate tools and coping skills to effectively navigate this transition.
Our Services
Oak Tree Recovery Homes is a structured living environment for men in early recovery located in Asheville, North Carolina. The safe supportive environment allows the residents to begin the recovery process. All guests are subject to random drug screens and daily curfews. This structured environment will be the foundation for the lifestyle they need to maintain sobriety and become successful members of society. Guests at Oak Tree learn to live again, one day at a time.
We Are Available 24/7, please don't hesitate to call if you or a loved one needs help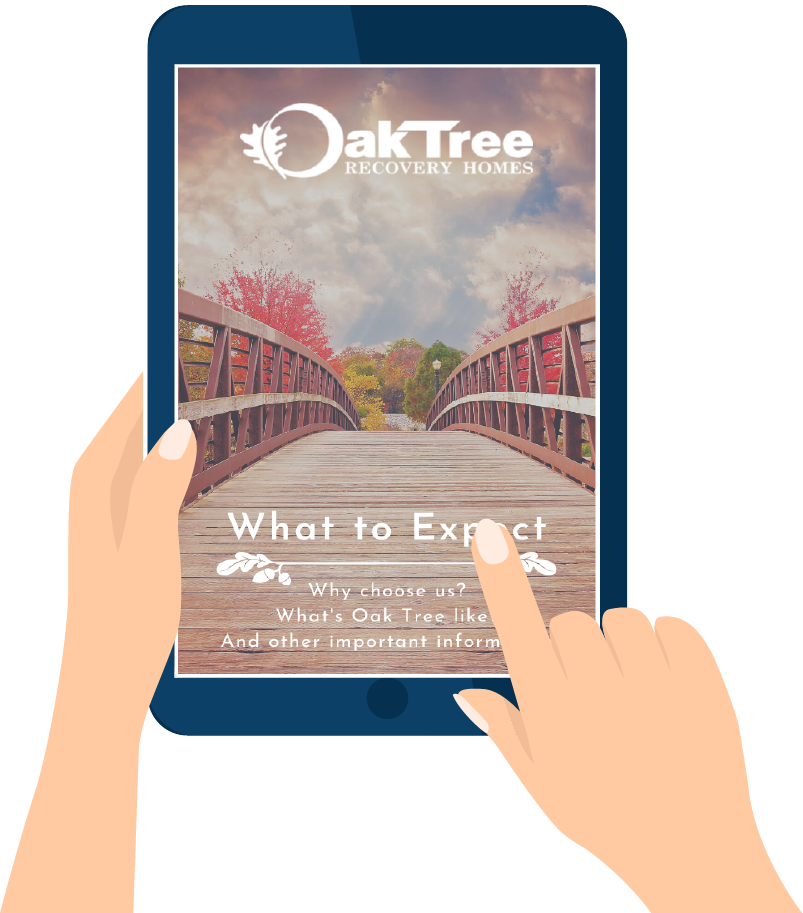 Download Our FREE What To Expect eBook

Mountain House
3 main level bedrooms, including a master suite with jacuzzi tub, double granite vanity, and walk-in with built-in shoe cubby. 2 downstairs bedrooms with full bath, office space, and living room. The kitchen with stainless, granite, breakfast bar, tile, and white cabinetry (easy close drawers!) is open to the dining area and living room. The living room has vaulted tongue & groove ceilings, a warm gas fireplace, and hardwood floors. Huge back deck for entertaining and enjoying the yard with firepit. 2 car garage plus lots of parking.
Hill House
This is our intake house. Custom built 3 bedroom, 3.5 bath • Minutes from Downtown Asheville. • Home has gorgeous #1 red oak hardwood floor. Granite tops in kitchen and baths. • Stainless steel appliances. Gas logs in the family room and basement. Backyard for bonfires, and other community events. Smoker on the property for cookouts. 2 car garage which facilitates community-based groups and ping pong.